About Us
We are a leading non-bank financial institution in Colombia focused on providing under-banked segments of the population access to consumer credit and micro-insurance through loan products designed to minimize loan losses.
Company Milestones:
Components of internal control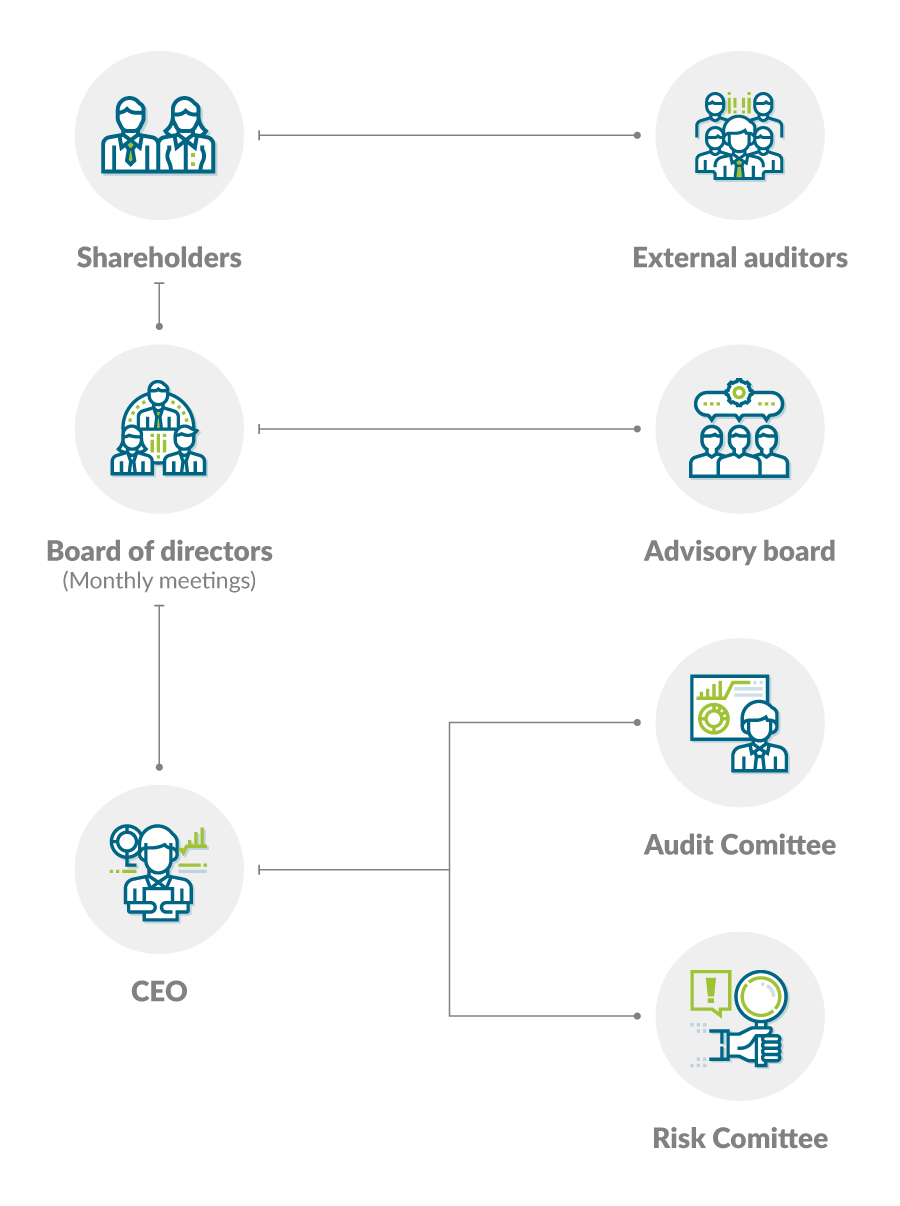 Board of Directors
The combined knowledge, experience and commitment of our management team and our shareholders have been crucial in determining our strategy and building new initiatives.
Pursuant to our bylaws, our board of directors must be composed of seven principal members with their alternates. Each member of the board holds office for a term of one year and may be reelected for subsequent terms. The following table presents the current members of our board of directors*:
Juan Carlos Restrepo
Management team
Mr. Restrepo was appointed as a principal member of our board of directors in May 2014. He has been at Credivalores since its establishment over 10 years ago and since 2011 he has been our Director of Distributors, responsible for the growth of the distribution force targeting pensioners for Tucrédito.
He has also served as our Director of Financial Planning. Prior to joining us, Mr. Restrepo worked as a Risk Analyst at Citibank. Mr. Restrepo holds an MBA in Finance from Universidad Javeriana and a Bachelor's Degree in Business Administration with a minor in Finance and Banking from the same university.
Rony Doron Seinjet
Seinjet Family
Mr. Doron was appointed as a principal member of our board of directors in May 2014. Since 2008, he has served as the President of CREDIVALORES USA Inc., an international factoring company that operates under the business name of CVCredit. He started his professional career as Assistant Plant Manager at Ingenio La Cabaña S.A. and has served as the General Manager of CR Doron S.A.S. since 1996. Mr.
Doron holds a degree in Industrial Engineering from the Worcester Polytechnic Institute and an MBA from Boston College.
Jose Miguel Knoell
Acon
Mr. Knoell was appointed as a principal member of our board of directors in May 2016. Mr. Knoell serves on the Board of Directors of the following ACON fund/investment vehicle portfolio companies: AMFORA Packaging, Credifinanciera, CryoHoldco de Latinoamerica, Grupo Sala and Vetra. Mr. Knoell is also an observer on the board of NetUno. Mr. Knoell also serves on the board of Fundación Carulla, one of Colombia's most successful early childhood development and education non-profits for underprivileged children. Foundation Carulla was funded with a portion of the proceeds from the sale of Carulla Vivero, a prior ACON fund portfolio company.
Mr. Knoell previously served on the board of Carulla Vivero, Fybeca and SAE Towers, among other ACON fund/investment vehicle portfolio companies. Prior to joining ACON in 1998, Mr. Knoell was a Vice President with the Blackstone Group from 1994 to 1998, where he was responsible for the firm's investment and advisory business in Latin America. Prior to joining Blackstone, he was an associate and founder of GBS Finanzas, a privately owned investment banking boutique based in Madrid, Spain. Mr. Knoell started his professional career as an Analyst in the mergers and acquisitions group of S.G. Warburg in Madrid, Spain. Mr. Knoell received a B.A. with honors in Economics from Harvard University.
Robert L. Rauch
Gramercy
Mr. Rauch was appointed as a principal member of our board of directors in May 2014. He is currently a member of Gramercy's Investment Committee and Asset Allocation Committee. Previously, he has served as a consultant to hedge funds managed by Van Eck Global and Farallon Capital Management specializing in the analysis of merging markets special situations. From 1994 to 1999, Mr. Rauch served as the President of The Weston Group, where he was responsible for overseeing the firm's securities research and corporate debt advisory business in Latin America. In the early 1990s, Mr. Rauch served as a Vice President at Lehman Brothers and CS First Boston in their emerging markets fixed income trading groups. In the second half of the 1980s, he was a Vice President and Trader with First Interstate Bank's Loan Syndications Group. Mr. Rauch holds an MM degree in Finance and International Business from Northwestern University – Kellogg Graduate School of Management and a BA degree in Political Economy from Williams College
Gustavo Ferraro
Gramercy
Mr. Ferraro was appointed as an alternate member of our board of directors in May 2014, and as a principal member in August 2015. He is currently the Head of Latin American Markets at Gramercy Funds Management LLC. Previously, Mr. Ferraro served as a Managing Director with Barclays Capital, where he led a Capital Markets team that covered the firm's largest Latin American corporate and sovereign clients focusing on debt capital markets and liability management.
He played a key role in Argentina's 2010 reverse inquiry debt restructuring, as well as the country's previous debt restructuring in 2005. From 2000 through 2003, Mr. Ferraro worked in Salomon Smith Barney's Investment Bank where he was head of TMT (Technology, Media & Telecom) for Latin America.
Lorena Cárdenas
Independent Member
Ms. Cárdenas was appointed as an independent member of our board of directors in August 2015. She has over 20 years of experience in the finance industry and over 8 years of experience in companies specialized in payroll lending and consumer finance in Mexico. Prior to joining us, between 2008 and 2015, Ms. Cárdenas was the CFO of Crédito Real, S.A.B. and during her time there the company's loan portfolio increased from US$190 million to US$900 million. Additionally, she was responsible for local and international financing of Crédito Real, S.A.B. and to lead the company's IPO in 2012. Currently, Ms. Cárdenas serves as CFO of VivaAerobus in Mexico.
Commites
Audit Committee
We have established an audit committee which will be responsible for presenting proposals to our board of directors on structure, procedures and methodology regarding internal control, evaluating the internal control structure in place and reports from internal auditors and other control entities, presenting programs and controls to prevent fraud and other violations, overviewing the responsibilities and duties of the internal control department, monitoring our risk exposure and our mitigation procedures at least every six months, and presenting a report to our board of directors including a description of the most relevant activities of the committee and the deficiencies detected and recommendations that could affect the financial statements and annual reports.

Set forth below are the names of the members of our audit committee:
Santiago Pérez
Advisor
Independent: YES
Juan Carlos Restrepo
Board Member
Independent: NO
Lorena Cárdenas
Board Member
Independent: NO
Risk Committee
The Risk Committee meets on a monthly basis to review loan underwriting policies and portfolio quality in order to update credit policies. The Risk Committee consists of the CEO, the Credit Manager, the Collections Manager, the Credit Approvals Manager, the Operations Manager, Commercial Directors and two external members: Hector Camargo (Consultant) and Lilian Simbaqueba (CEO of Grupo Lisim International).
Has worked for more than 20 years at Group LISIM, advising entities on the management of their credit risks
Her experience covers companies in more than 16 countries in the finacial, public, utilities, and telecom sector, with high exposure to credit risk
Some of the accounts covered include Bancolombia, World Bank, Visa, Une-Tigo, Movistar and Hyundai
Bachelor's degree in Computer Sciences from Konstanz University (germany) and MBA from Universidad de los Andes
15 years of experience as advisor of credit risk management
His experience covers companies in 9 countries in the finacial and retail sector
Some of the accounts covered include HSBC, Davivienda, AV Villas, Banco Bice, Banco de Occidente and Santander
Previously worked for 27 years in corporate banking and risk, management positions in different banks, in Colombia Chief Risk Officer at Citibank (Andean Region), Banco de Colombia and Banco Santander Colombia, Corporate Chief Officer at Banco Santander Colombia
Bachelor's degree in Economic Sciences and Master in Economic Sciences from Florida State University
Corporate Governance Documents
Product Portfolio
Tucrédito
Payroll loans, mainly to public service employees and pensioners. Payments on payroll loans are collected directly from employers before any wages are paid to clients, pursuant to clients irrevocable instructions. In addition, the majority of the portfolio is comprised of public sector employees and pensioners, who have low turnover rates and steady revenues, thus mitigating collection and non-payment risk.

Managed portfolio contribution: 52.0%
Collection Channel: Discount from employye payroll or national goverment pension payments.
Crediuno
A branded credit card offered at the mayor retailers in Colombia, that is collected through public utility companies. Payments due are invoiced as part of the client's public utility bill, which creates a sense of priority for payment over any other consumer loan.

Managed portfolio contribution: 38.9%
Collection Channel: Installmet included and collected by public utility or mobile telephone companies on their bills.